A lot of questions
Below you'll find some useful information which will help you to have a better understanding about needles and our services.

Simply good to know
What is Drilled-end needle?
Drilled-end needle is suture needle without the thread attached to it. It is a curved or straight needle used for suturing in surgery where one end is pointed and the other end has a hole drilled along the body for the thread/Suturing material is attached. Hole with chamfer and precise wire size perfectly adapted to attach all suture threads.

What is the needle's Taper Ratio?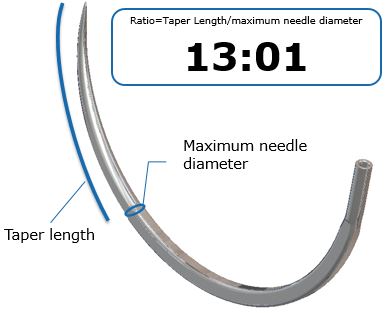 A needle's taper ratio is the length of its tapered section divided by its maximum diameter as shown in the graphic to the left. The tapered section is the distance along the needle from the tip to the maximum diameter.
Selecting a needle with the appropriate taper ratio requires the operator to balance needle penetration and needle strength.
Do you supply with the suturing material attached?
No. We supply only the needle ready for suture attachment.

What material is the needle manufactured from?
Our Needles are manufactured in 300 series Stainless Steel Grade wires, according the ASTM F899. We import these wires from trusted sources all over the word.

What does "Ductility" mean?
This term designates the capacity of a material to be deformed without breaking. Such a material is said to be ductile. Ductile is the opposite of fragile or brittle, which defines a lack of bending strength and the resultant potential breakage of a material. It is a property that is highly sought after in surgical needles. Suturex & Renodex surgical needles are made from a 300 stainless steel alloy for ductility and bending strength, allowing optimal security when suturing.

Do you have standard sizes readily available in your stock?
We manufacture needles only against orders. Nevertheless, a list of needles in stock is available here.
What is your standard delivery time?
Delivery time is established by our Supply chain Dept. and communicated in our proforma, according codes, quantities requested and production activity, to answer to your expectation.

What is the minimum quantity per size that can be supplied?
A minimum of 1000 pcs per size is required for production. See our Terms and Conditions of Sale. The needles are delivered in lots in plastic boxes of 250, 500, and 1000 needles (depend of the needle size).

Are the needles sterile?
We supply un-sterile finished needles ready for suture attachment. Suturex & Renodex provide only disposable, single-use needles for sutures to avoid any cross-contamination.
Suturex & Renodex neither represents nor test this material for specific medical application since we do not supply a medical device. Our products are non-sterile and for further processing only. Purchaser is fully responsible to determine end-use suitability.

Do you provide needles with silicone coating?
Most of Suturex & Renodex's surgical needles are coated with our advanced needle coating technology, by using silicone medical grade coating. Product information and Safety Data sheet available upon request.
Our Silicone coating maintains needle sharpness from start to finish over multiple passes. Silicone covers entire surgical needle offering consistent needle penetration pass after pass and needle to needle. 

Can you provide free samples for testing purpose?
Yes, we can give a set of needles as free samples for testing purpose.
Do you have a quality policy and regulations for needles produced in your factory?
Yes, we do have a strict quality policy and all needles produced are within the rigid structure of our quality assurance and we supply needles with certificate of conformity in compliance with the policy.

Do you have any quality certification?
Suturex & Renodex's  needles are manufactured, tested and packaged under strict quality control. The quality system is in compliance with ISO 13485 registered. Certificate available on the website on Quality rubric.

What is the storage condition preconized for needles in our warehouse?
The products should be stored, if possible, in original and closed package, in dry condition.
What is the shelf life of a needles batch?
Suturex & Renodex guarantees that the supplied products meet our internal specifications and the sales specifications in effect at the time of shipment. A wrong storage could affect performances of the products.
The traceability records of each of the production batches are kept after 10 years from the manufacturing date.
Do you supply eyed suture needles or channel-end?
We do not supply these suture needles. We manufacture and supply drilled end only.
What is the company's commercial terms?
Does the organization have established Environmental Policy & Procedures to manage all the aspects and impacts of its activities?
Yes, Suturex & Renodex is registered with the local pollution board and complies with all the applicable environmental laws and regulations.

Is your company product environmental friendly?